A Dollar Humanitarian Campaign Against Poverty and Graft and Corruption in the Philippines
Philip S. Chua, MD, FACS, FPCS
Chairman, Filipino United Network (USA)
How would you like to launch a historical fight against poverty and graft and corruption in the Philippines and bring good governance and morality in our government --- all for just a dollar?
You and I have always abhorred the pervasive corruption among our government officials in the Philippines and deplored the sad state of our country, where more than 30% of our people are languishing in massive poverty. - more info
The Filipino United Network-USA supported the fund campaign of the Society of Philippine Surgeons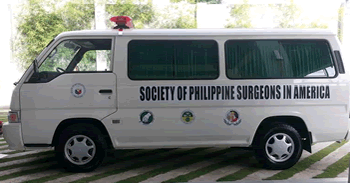 The Filipino United Network-USA supported the fund campaign of the Society of Philippine Surgeons in America, chaired by SPSA founder Hernan M. Reyes, MD, FACS, to provide an Ambulance for the city of Ormoc and nearby areas in Leyte, which were hit by typhoon Haiyan. The logos of SPSA, the Ormoc Sugar Plantation Association, and FUN-USA are painted on the side of the Nissan urVAN. Ormoc Congresswoman Lucy Torres-Gomez coordinated the donation which was delivered October 8, 2014
RP Ambassador Attends FAITH Summit
The Filipino American Initiative to Transform our Homeland (FAITH), a subsidiary of the Filipino United Network Ė USA, was formally established on Saturday, September 19, 2015 at the Double Tree by Hilton in Richmond, Virginia. Pictured at the Dinner-Dance that evening are: (L-R) Mrs. Letty Rigor, Mrs. Vicky Cuisia, Philippine Ambassador to the United States, Jose Cuisia, Jr., and Dr. Sarie Laserna, past president of NCVAPP and Vice-Chair of FUN-USA, and Dr. Oscar Laserna, adviser, FUN-USA. Standing are (L-R) Dr. Ben Rigor, Dr. Emy Abay, Mrs. Candy Emnas-Prisno, Dr. Evelyn Tuason, NCVAPP president, Dr. Lory Floro, USTMAAA Mid-west president, Col. James W. Ireland (Ret.), vice president of the Montero Medical Mission (MMM), Dr. Juan Montero, founder-COO of MMM, Dr. Philip S. Chua, Chairman, FUN-USA, and Dr. Daniel Fabito, Vice-Chair of FAITH and Board Member of FUN-USA.

Food for the Hungry, Land for the Landless, Home for the Homeless, Self-Respect, Dignity, and Pride for the Poorest of the Poor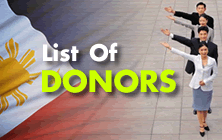 The Filipino United Network-USA is emailing the official FUN acknowledgment/certificate of donation to all individuals who have donated to its humanitarian projects. The document needs to be submitted to the IRS when filing the April Tax Returns in order to enjoy the tax-deduction benefit for the contribution.
FUN is a 501(c)(3) tax-exempt charitable Foundation in the United States and donations to this entity is tax-deductible to the extent allowed by law.
Those who have donated to FUN and have not received said certificate are requested to send their email address to scalpelpen@gmail.com to receive a copy.
Those without email address may have a family member email FUN, or may write to Dr. Ale Ragaza, FUN Treasurer, Multicare Medical Center, 232 Boston Post Road, Milford, CT 06460, USA.